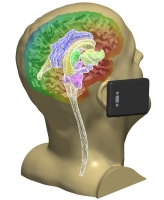 Wed, Jun 5, 2019 4:00 PM - 4:15 PM BST
Join this webinar to learn about the Simpleware-CCNY head model which offers a significant resource for anyone wanting to evaluate product designs and simulate how they interact with the head.
The Simpleware-CCNY head model is a highly detailed representation of the head created in Simpleware software from scan data. The City College of New York (CCNY) is the source of the data, which consists of T1 and T2 weighted scans performed on a Siemens Trio TIM 3.0 Tesla scanner.
Unlike other application-specific head models, the Simpleware-CCNY head model can be adapted to different needs, whether for CAD, FEA, 3D Printing, or any other task requiring accurate anatomy. Join this 15-minute webinar for an introduction to how the model adds accuracy and flexibility to many different workflows.
In this webinar you will:
• Learn about the unique features of the Simpleware-CCNY head model
• See how you can incorporate medical devices and consumer products to the model
• Gain insights into export capabilities (CAD, 3D Printing, FEA, EM, CFD…
Register your place today